This class is based on curriculum developed at the Chicago Improv Den, and delves into some of the more advanced philosophies of improvisation—building ensemble, finding organic inspiration, and freeing yourself to use your whole mind and body on stage. The class also promises to make you a more confident and elegant performer.
Each week, the class is followed by a show involving students from AP 2 and above. The last class of the session will culminate in a show for AP 1 students, with regular weekly shows at the onset of AP 2.
The Laugh Out Loud League will polish your improv skills in this 12 week program. If you are cast, you will be put on an ensemble and given a director for 12 weeks. Groups rehearse once a week and perform every other Thursday at Laugh Out Loud Theater. The program costs $150 (that's just $12.50 per week). The League is run by Mishell Livio.
Groups rehearse Monday nights (7-9) starting on Sept 11, or Saturday afternoons (1-3) starting on Sept 9.
Audition Date/Time:
Saturday, Sept 2, 10:30am – 1:30pm
Wednesday, Sept 6, 8:30pm – 10:00pm
Location: Laugh Out Loud Theater, 3851 N. Lincoln Ave
Please bring: headshot and resume; no need to prepare anything
Directors for this session include:
Catharine Savage
Rudy Voit
Alex LeBaron
Rob Mor
Laugh Out Loud's Youth Ensemble will have your kids flexing their funny bones while challenging them with a variety of theater exercises and improv comedy games. This comedy course is led by professional Chicago improvisers, and these instructors will take your child on a journey through improv that will hone a variety of skills such as teamwork, listening, public speaking, creative thinking, self-confidence, and, of course, individual sense of humor.
This four week program will culminate in four improv performances at Laugh Out Loud Theater.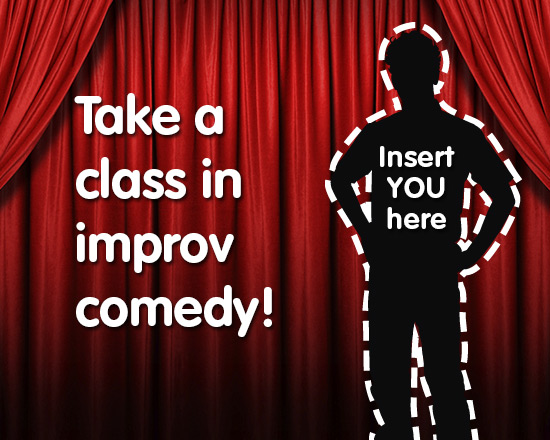 Anybody Can Take Classes
Our improvisation classes are for both adults and teens. If you've always wanted to try comedy, now is your chance. Improv classes can benefit everyone. Actors, doctors, baristas, and even pirates take our classes. Seriously, if a pirate can do it, so can you.