Are you ready to try improv? Yes, and… are you ready to do so while meeting new people, getting out of your comfort zone, and spending one night a week learning and laughing? Then this class is for you. The basics of improv and ensemble, no experience necessary! Each session is six weeks, and classes are 2.5 hours long.
This class is for ages 18 and up. Students do not need to prepare anything, but should come dressed to move. To complete the level and move on to more advanced classes, students must attend at least 4 of the 6 classes.
An exploration of the various types of Short Form improv games. Each 6 week session will explore a specific category of game in-depth, giving insight into the specific mechanics as well as providing tips and tricks for fun and success. Students will then have the opportunity at the end of the session to perform in their very own show and put their skills on display!
This session will focus on Object Work and Environment.
COVID-19 Procedures for In-person Classes
Please note we are taking the following precautions for all students:
Every student must provide proof of vaccination either in advance via email or at the first class.
Every student must remain masked with a KN94, KN95, or N95 mask for the entirety of class. If you do not have one of these masks, you will be asked to wear a surgical mask (which we will provide) in addition to your cloth mask. Bandanas, gaiters, and ill fitting masks will not be allowed.
Students will be asked to stay 6 feet apart when at all possible.
If a student feels ill at all, we ask that you NOT come to class.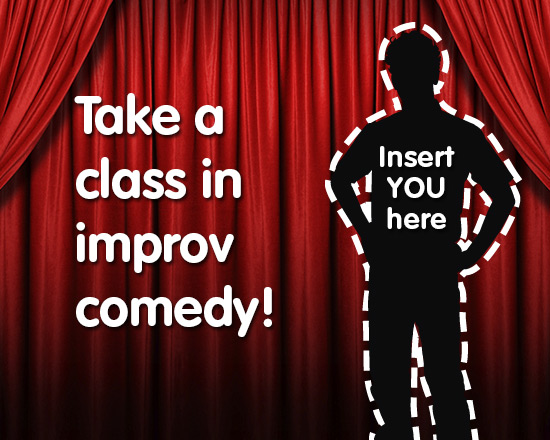 Anybody Can Take Classes
Whatever your background, improv is for you! Whether you're a barista or an accountant, an aspiring actor or a stay-at-home parent, our improv classes can enrich your life and help unleash your inner creativity.
We offer a variety of classes in comedy improvisation, as well as sketch writing, stand up comedy, storytelling, musical improvisation, and specific topic workshops. Most of our higher level classes culminate in a final performance.