The basics of improv and ensemble, no experience necessary! Classes are 2.5 hours long.
Each 8 week class has a specific focus like Character, Object Work and Environment, Relationship, etc. With different instructors each session, take as many times as you'd like.
$25 Discount if you sign up more than 7 days in advance of the first class.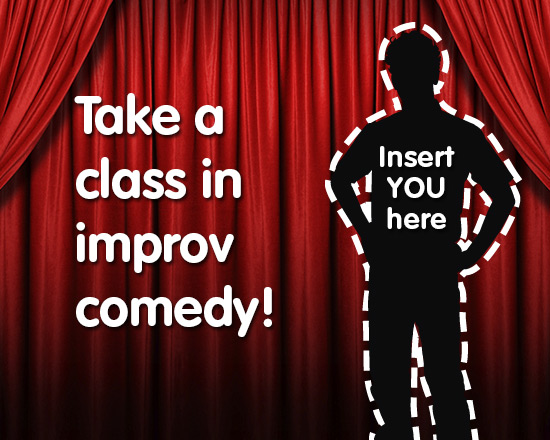 Anybody Can Take Classes
Our improvisation classes are for both adults and teens. If you've always wanted to try comedy, now is your chance. Improv classes can benefit everyone. Actors, doctors, baristas, and even pirates take our classes. Seriously, if a pirate can do it, so can you.
No Previous Experience Required
Learn to think in the moment. Improve your social skills. Get more comfortable being on stage or doing public speaking. Do things you never thought you could do. Find maps to lost treasure in the high seas of Schaumburg. Most importantly, have a great time.
Come Back Again & Again
Beginning Improv is 8 weeks of the basics, and once you get those you can take Advanced Improv as many times as you'd like. Each Advanced Improv session will have a different focus, teach new games, and culminate in a brand new show for friends and family.
We Also Teach Scripted Comedy
Even the performers on SNL started somewhere. Learn to apply improvisation to create and write comedy sketches.